How cartoons & television affects your child's behavior?
Children love cartoons. Sometimes, even we enjoy watching it with them. It feels like reliving childhood. Moreover, the house is at peace when children are watching cartoons one after another. This is because there is a number of cartoon channels available which introduces various characters to the children. These cartoon characters, directly and indirectly, impact the child's behaviour.
When we were of their age, I remember we had very limited exposure to the cartoon characters. Mostly only through the television and for the scheduled time. Today, children can watch the same cartoon on television, laptops or even on mobiles. The more time they spend in front of the screen, the more they try to find out various cartoon characters.
The researchers at the University of Michigan has found out some shocking facts about children watching cartoons.
2-5 years old children watch cartoon 32 hours a week.
6-11 years old, 28 hours.
71% of children aged 8-18 years have a separate TV set.
53% of children aged 7-12 are watching TV without parental supervision.
Now those numbers are worrisome.
Ever thought what attracts children towards the cartoons? Audiovisual effects, colour combinations and cartoon scenarios are the three main things that make children stick to the cartoons. Child's behaviour is strongly connected to all these aspects. Children try to learn maximum from the cartoons than that of any other conventional learning source.
Like every coin has two sides, children watching cartoons has positive and negative impacts too. Child's behavior is determined on the basis of what they watch and grasp out of it. (Ref Image)
Let's look at some cartoon characters that are more popular today and what children tend to learn from them.
---
Chota Bheem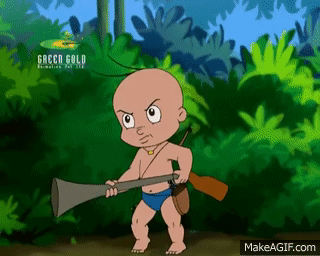 My four-year-old niece, Spruha, came to me and asked for ladoos. I thought she must be hungry so I handed over one. Again after an hour, she demanded the same to her mother. We gave her another one. She wanted more. We know eating a lot of sweet is not good for children. So we asked, "You just had 2 ladoos in last one hour, why do you want it so much? It will spoil your teeth."
What we received in return shocked us. "Chota Bheem eats lots of ladoos that is why he is brave, intelligent and strong. So If I want to be the same I must eat as many ladoos as he does." WOW! Where did that come from?
We observed she was watching that cartoon for days.  What was she learning out of it? That eating ladoos will make you strong.  We never know what children will learn from what. It was too difficult to explain it to her that it's not just ladoos but healthy diet and exercise will make you strong.  Now you know why I ranked Chota Bheem as the most popular one. Children imitate what they watch. It is the parent's responsibility to help them differentiate between reality and fiction. Yes, It is hard! But a good conversation can sort it all. Agree don't you?
---
Doraemon
We know the main character, Nobita, who don't study. He is lazy and his robot Doraemon helps him complete all his homework. This cartoon tends to make the child's behaviour lazy and dependable on others. Children think that the gadgets that Doraemon bring for Nobita are real. Sometimes they demand it too. It is too much of fiction. This cartoon also has angry characters such as the mother of Nobita, always scolds him. Takeshi Goda is angry all the time. Parents need to understand, research a bit about the cartoons that the children are watching.
So what to do if we observe certain changes in a child's behaviour?
Aggression for that matter. Find out the cause. We talk to them. Empathize them. Slowly reduce the amount of time they watch these cartoons.
---
Shin Chan
We all have read about the controversies happened because of the cartoon Shin Chan. It was banned in India in 2008, considering its impact on the child's behaviour. Why did this happen? There were a lot of adult jokes and scenes in the cartoon series.  He was shown making his mother's life miserable. Use of impolite language was more prominent in its dialogues.  In short, he was a bad role model for the children. Free suggestion- Strictly keep your children away from such cartoons.
---
Tom & Jerry
Yes, you read that right! The cartoon that we all grew up watching is now blamed for the children's violent behaviour. It is observed that these cartoon characters prompts children to come up with sinister plans and encourages violence.  Another red alert for parents! Though it has a nice sound effect even for the violent scenes, children absorb what they have to. They may plan something violent against the person that they don't like. For Example- bullying at school.  Let your child know that all that they watch in this cartoon is not real and they must not replicate it.
---
Motu Patlu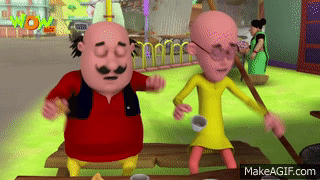 The name itself depicts that the physical appearance is all that matters. Many parents claim that the language that has been used in this cartoon is inappropriate.
Motu can defeat the goons only when he eats a plate of samosas. This creates a dangerous tendency in children. They may misunderstand that these type of junk food provides strength and sharpness to solve the problems. So next time you find your little one watching this cartoon, warn him/her that eating samosas is not a solution to any problem. Junk food cannot solve your problems.
---
So, now the question is what should your children watch?
Show them something that is completely inspiring.
Following five characters/films are the best things to show children.
1. Rapunzel
She teaches us to get out of our comfort zones. When it comes to following our dreams, the rewards are worth the risk. Her journey outside the tower teaches us that to catch the dream breaking our comfort zones is a must.
---
2. Moana
Her bravery portrayed in the film is inspiring. She is far more interested in adventure and community service than anything else. To cross the boundaries of the horizon, always listen to your heart. Fight with the fears that come in your way to achieve what you want.
---
3. Merida From Brave
When things don't turn out the way you want, never give up. Be brave and fight. Be Merida of your lives. Be independent. Don't think that someone else will come and rescue you. Find your own solutions. The most important lesson from this film is independent thinking and problem-solving. Make sure you show this film to your children.
---
4. Wreck-it Ralph
The entire film was all about valuing what we have. Disappointed Ralph abandons his game because he feels humiliated and undervalued.  He meets a few more game characters who are abandoned. He understands that at least he has a role to play in his game.
Teach your children to know the worth of the people around. Will things be the same when they are not around?
---
5. Big Hero 6
Want to teach children about sibling love?  Show them film named 'Big Hero 6.' The relationship between Tadashi and Hiro can teach children to respect and encourage each other.
---
6. Chillar Party
Though this is not an animation film, it is one of the best children's films you can let your little one watch. Unity is a strength. A group of city kids stands together to save their dog. They fight till they win. Together, they come over their fears. It is also a good treat for parents.  When children are fighting for something good, an addition of parent's support can boost their confidence.
---
7. Little Krishna
Let's not forget the Indian superhero.  This cartoon was first planned to air only in India, but it was broadcasted all over the world.  We all have heard Krishna's story from our grandparents. It's time to pass it on to our children. There are a complete series and a film on Krishna's stories. Watch it with your children to teach them life lessons.
---
Even though some cartoon characters can bring negative impact on the child's behaviour, there is a lot to explore. When you forbid or allow children to watch something, explain to them 'WHY?' Don't just say it's not good for you. Give particular reasons. Have detailed conversations whenever required.